Cast and Crew
Hugh Hancock
Executive Producer
Head Honcho
Since 1997 Hugh Hancock has directed more than 16 Machinima animations,including both work for the BBC, BAFTA, Scottish Screen and computer games giant Electronic Arts, as well as several acclaimed independent films.

As the founder of www.machinima.com, the center of the Machinima movement on the Internet, he has lectured on Machinima on three continents and was described by the Hamburg International Film Festival as "the guru of the Machinima movement".

Hugh Hancock`s wishlist
Johnnie Ingram
1st Assistant Director
Head Of Caffine Replenishment
Johnnie has worked as a professional theatre director and a web designer. He started working with Machinima in 2005, after following the medium for several years.
He is currently the Site Editor and primary voice of Machinima.com, as well as being First Assistant Director for the BloodSpell project. He is also the voice of the Jelly-Hatted Pimp Preist, who appears in Episode 3.
He hopes you're having a nice day. That colour really suits you.
Johnnie Ingram`s wishlist
Alasdair Watson
Creative Consultant
Alasdair's main achievements in life seem to be getting drunk and talking rubbish, while simultaneously getting people to take him seriously. It's harder than it looks.
When not drunk, he's a web developer and internet consultant, which means he works out how to communicate on-line, then builds tools to do it. For extra cash, he'll also formulate convincing-sounding theories on the future of the creative econcomy in the digital era.
When not drunk or engaged in his professional capacity, he's an amateur photographer and sometime writer / general creative type. Many years ago, he wrote several articles on writing and related subjects for machinima.com.
Alasdair Watson`s wishlist
Willem van Heemstra
Assistant Editor
Show, Don't Tell
Willem (pronounced as 'film' with a 'w') has come over from Amsterdam, Holland, to climb the steep hills of Machinimatics. Cutting Bloodspell-takes to the bare storytelling minimum seems to be his passion at Strange Company. Besides his 'Fresh Talents' entry in this awesome media evolution, Willem is a full-time Film & TV Student at the Edinburgh College of Art.
Since his exhibition on footage of 200 bullets shot from an airgun piercing bananas and a floor-fan floating 40 pancakes, his imagination has weighted heavily on his small brain.
Ben Sanders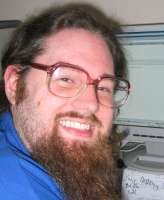 Filming Crew
Ben joined BloodSpell in January, after having worked with StrangeCompany back in 2001 on a previous machinima project.
He's been working on the filming; mostly positioning actors and queueing animations and movements, and occasionally choosing the camera shots and arranging the recordings.
Steve Wallace
Technical Director
Asset Wrangler
Steve Wallace has been bumming around the Strange Company offices off and on since 2001.
He fulfills a nebulous role that stretches from in-game asset creation to making the tea and coffee and carrying out the bizzare voodoo rituals that keep the Strange Company computers and network running.
In between tasks he's the designated 'weird-but-fun stuff on the interweb' finder, and a fine source of 'helpful' advice.
Steve Wallace`s wishlist
Phil Rice
Sound Designer
Token American
Phil Rice, also known as Overman, first came to be involved with machinima in 1998, producing a handful of short machinima works. He is perhaps best known for his series of tutorials which helped other filmmakers break into the genre in 1998-99.

Perhaps the only BloodSpell collaborator on the western side of the Atlantic, he brings 15 years of sound engineering and composition experience to this project. Phil hosts a machinima-themed podcast ("the overcast") while working on some new machinima material.
Justin Hall
Animator
Done it
Justin trained in animation at the North Wales School of Art and Design, and has since then worked on projects including the critically-acclaimed "Tiny Planets" for Pepper's Ghost Productions.
Nowadays he spends most of his time imagnating fatastic ideas which he never gets around to doing...because he is animating BloodSpell (honest).
Ross Bambrey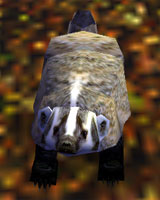 Film Editor
Badger Trainer
Educated in various nasty sciences (ie Fluid Dynamics) and currently writing a PhD in "Strong interactions between co-rotating vortices" Ross began his editing career with "Rogue Productions", the St Andrews University Film Society working on several short films in a last ditch effort to ruin his degree.
Now with another degree to ruin he has been working with StrangeCo on Bloodspell since September 2005. Since when he has become obsessed with machinima and can think of very little else.
Ross Bambrey`s wishlist
Meghan Claire Pike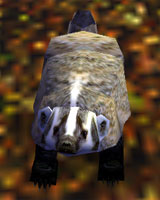 Dogsbody
The Flying Water Muppet
Meg was recruited for bloodspell by chance one fine day, little realising the level of acerbic sarcasm and production values involved.
She often made everybody stand up in church by accident, or just plain killed everybody. Occassionally she helped people walk at the right speed. She said "hello" alot. Mostly though, she enjoyed being a dragon, because everybody had to look up to her.
Her involvement in bloodspell was short and sweet, and more importantly she also managed to get a rogue up to 6th level in NWN during working hours: teh win!
Meghan Claire Pike`s wishlist
Next page